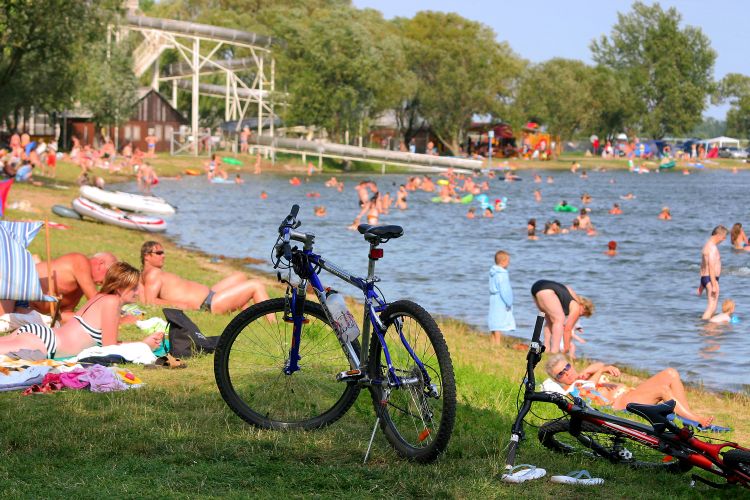 Summer as it should be
Route: Pasohlávky
Time: several days
Characteristics:
Experience summer to its fullest in Pasohlávky. One of the most popular centres of water recreation in Moravia is undoubtedly the complex on the banks of the Nové Mlýny reservoirs near the village of Pasohlávky. The place is visited by swimming, windsurfing and other water sports enthusiasts. In addition to the complex services for family holidays by water, fishermen and sportsmen, another great advantage of Pasohlávky is the immediate vicinity of the Pálava Protected Landscape Area, the historic town of Mikulov, Dolní Věstonice with its archaeological exposition, many family wine cellars and a dense network of hiking and biking trails inviting to visit the landscape.
Description:
Day 1
morning: arrival and accommodation in ATC Merkur or in RZ Laguna
sport-recreational activities
Day 2 – Pasohlávky
morning: Pasohlávky sightseeing and archaeology exposition
afternoon: sport-recreational activities in ATC
Day 3 – cycling trip around Nové Mlýny (ca. 27 km)
The trail passes through the popular recreational area of Pasohlávky and leads past the Upper and Middle reservoirs of the Nové Mlýny waterworks, where the Věstonice Reservoir Nature Trail was newly installed. It is a popular local route with a low level of difficulty, leading along paved and unpaved roads, and parts of the busy E561 road.
Day 4 – cruise
morning: cruise on Mušov reservoir; from the boat you can see limestone peaks of Pavlov Hills. The boat anchors in Merkur camp port and it is possible to sail to Brod nad Dyjí
afternoon: sport-recreational activities in ATC
Day 5 – for wine by bike
all-day cycling trip: Pasohlávky › Brod nad Dyjí › Dolní Dunajovice › Bavory (wine tasting) › Mikulov (tour of the historical city centre with a castle and a number of expositions, Dietrichstein Tomb, …) › Březí › Dobré Pole › Nový Přerov (visit to a farm Jáňův dvůr) › Novosedly (excursion on the Stará hora Nature Trail, tour of the winery, wine tasting) › Brod nad Dyjí › Pasohlávky
Day 6 – Pálava
all-day trip to the Protected Landscape Area of Pálava. Ruins of medieval castles Děvičky and Sirotčí with unrepeatable views of South Moravia and Lower Austria rise on the Pálava ridges.
Day 7
ending the stay and departure
Sport opportunities at Merkur Auto Camp complex:
windsurfing, windsurfing school and rental
minigolf, beach volleyball, sports trampolines, tennis courts, volleyball courts, toboggan water slide, ping-pong, water football, inline skates, quadricycle rental
bicycle rental, boat rental, pedalo rental, quardicycle rental
Adrenaline sports:
water skiing, aquaskipper, zorbing and aquazobring, wakeboarding, day on a sailboat, canoeing the Dyje River, hot-air balloon flight, sightseeing flight over Pálava, Segway, archery, hovercraft, seven-league boots